The US solar industry added more than 31,000 jobs in 2014 – growing at a rate of 21.8% since November 2013.
The Solar Foundation's National Solar Jobs Census 2014 states the industry is adding workers at a rate nearly 20 times faster than the overall economy and the installation sector is already larger than coal mining.
"The solar sector has grown an extraordinary 86 percent in the last four years, adding approximately 81,000 jobs. Our Census findings show that one out of every 78 new jobs created in the U.S. over the past 12 months was created by the solar industry – nearly 1.3% of all jobs," said Andrea Luecke, President and Executive Director of The Solar Foundation.
Rhone Resch, president and CEO of the Solar Energy Industries Association (SEIA), said the report was proof of the industry's importance to the US economy.
"Not only is solar helping to power more and more homes, businesses, schools and government buildings, but it's also helping to power the U.S. economy in a very significant way – and, frankly, we're just scratching the surface of our enormous potential."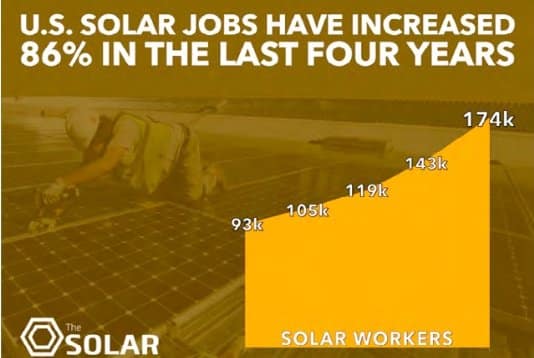 While the USA's workforce is growing, it's also becoming more efficient. In 2012, it took around 19.5 workers per installed megawatt of solar panels. Last year that number dropped to 15.5.
59.6% of installers in the USA work primarily on residential solar panel systems and 23.6% on small to medium commercial solar arrays up to 200kW
Jobs growth looks set to continue for the next couple of years, with employers expecting to add another 36,000 jobs in the USA this year.
One of the nation's major solar employers is SunEdison (NYSE: SUNE), which also recently began making its presence felt in Australia with the acquisition of the Energy Matters group of companies.
"SunEdison is an American company that employs thousands of talented men and women across the United States," said Ahmad Chatila, Chief Executive Officer of SunEdison .  "As the largest renewable energy development company in the world, I'm very proud to be part of an industry that is creating thousands of high quality American jobs."
The USA has an estimated 20.2 gigawatts of installed solar capacity, enough to  power nearly 4 million homes. Another 20 GW is forecast to be installed in 2015 and 2016
"Solar power is a key component of our all-of-the-above approach to American energy, creating good-paying American jobs that support our growing clean energy economy," said US Energy Secretary Ernest Moniz.
"This diverse and vibrant workforce is vital to achieving the President's goal of doubling electricity generation from renewable sources yet again by 2020."
The Solar Foundation's National Solar Jobs Census 2014 can be viewed in full here.