So you've found your dream home and everything seems perfect… but then you get your first quarterly energy bill. Did someone say 'bill shock'?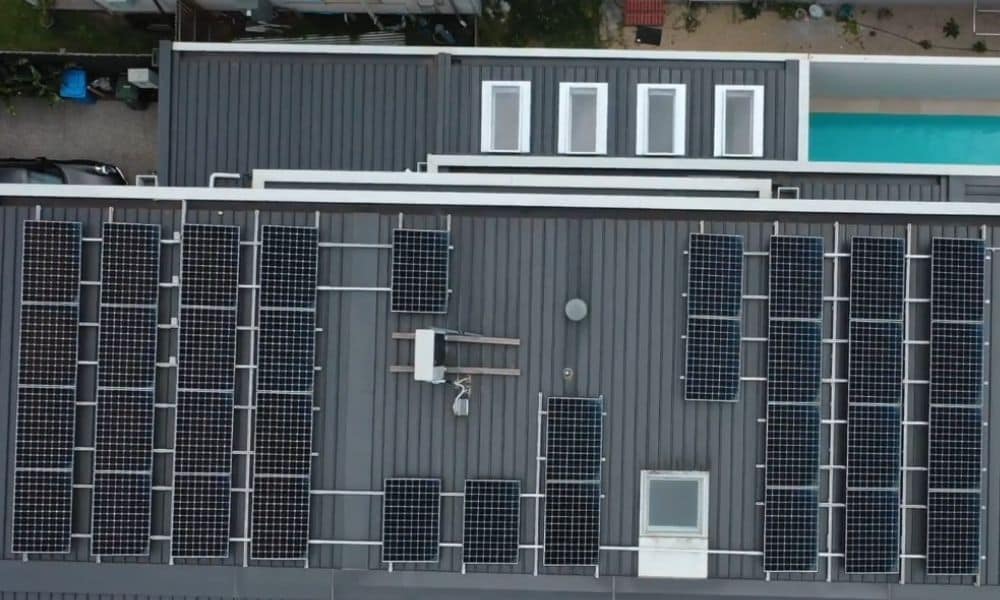 In this week's episode of Open Homes Australia, The Block fan-favourite Jesse Raeburn meets a family who solved their bill shock dilemma with a SunPower Maxeon solar system and energy storage solution supplied and installed by Elite Smart Energy Solutions.
Below is a recap of the segment, including the family's journey from a $1300 quarterly to $0 energy bill.
A Contemporary Townhouse That's Anything But Ordinary
Episode 4 of Open Homes Australia invites us into a stunning contemporary townhouse in Hampton, South East Melbourne. Previously one of Melbourne's best-kept secrets, Hampton is now firmly on the radar of home buyers and investors alike thanks to its feature in last year's season of The Block.
Jesse caught up with homeowner Steve, who took him and viewers for the grand tour, starting with the striking modern facade. The aesthetic is clean, fresh and minimalist but certainly not dull.
Stepping inside, it's clear this is no ordinary townhouse – it's huge! Steve explained that he and his wife Sarah wanted a brand new home, with lots of open space and natural light.
The north-facing floorplan is impeccable, featuring two and a half levels with ample living, sleeping and play space. It's perfect for a family, or for anyone who wants room to spread out.
The ground floor boasts a dedicated playroom for the couple's son George. The room extends out to an alfresco area, maximising the use of the space and providing a great spot for the little one to play without cluttering the living and sleeping zones.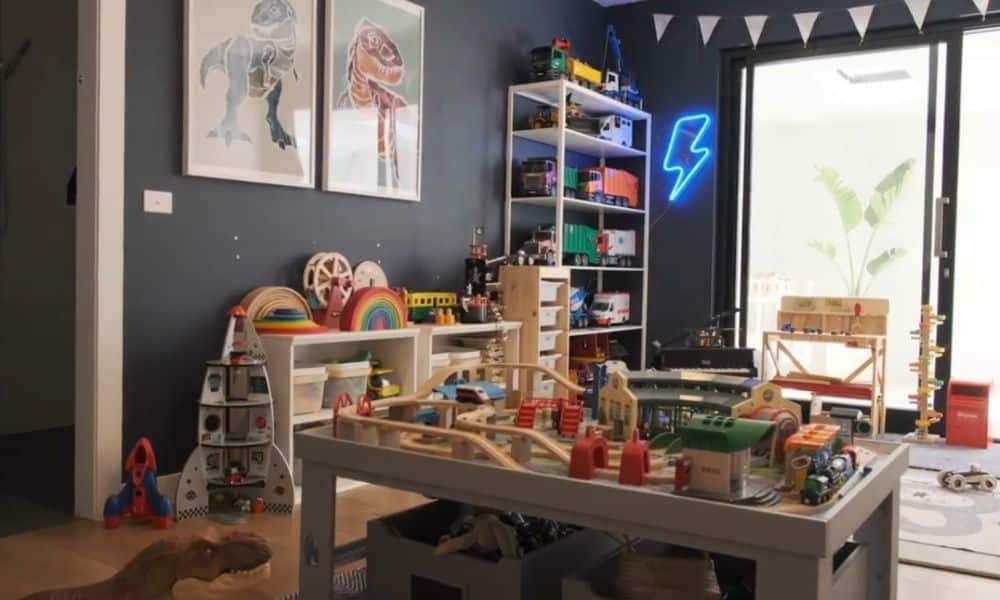 The heart of the home is both functional and delightfully unique, with a split-level dining and living area that provides a sweeping overview of the family's heated pool and backyard.
Upstairs, there's a rumpus room with plenty of natural light where the family can unwind and watch tv in the evenings, before retreating to their bedrooms on the same floor.
A Solar Solution That Delivers $0 Bills
As well as being huge and stylish, this townhouse is also energy efficient – however, it wasn't always this way.
As soon as the family moved in, they were running a big air conditioning system, a pool pump and a good deal of electronics to boot. When their first quarterly energy bill came through, Steve and Sarah were shocked at how high it was. At over $1300, they knew they had to do something about it – and quickly!
Thankfully, they found Elite Smart Energy Solutions and their SunPower solar solution.
Elite Smart Energy Solutions, sourced through Energy Matter's solar retailer network, met with the family and tailored a solution perfect for their needs. They looked at the family's energy bill, consumption habits, available roof space and budget to design a system that would slash their energy bills.
The result? A world-class SunPower Maxeon solar system and 16 KW energy storage solution. The solar panels offset their daytime usage while the home battery allows the family to store energy generated during the day, so they can use it at night or during peak times when the cost of energy is higher.
Energy Matter's CEO Rosh Ramnarain explained that SunPower Maxeon solar panels are the most efficient solar panels on the market. Consistently rated the best solar panels in the world, SunPower panels set the standard for high-quality panels that deliver superior performance and longevity.
Given that roof space is often at a premium in townhouses, the Maxeon panels were the perfect choice. They're sleek and stylish, and since they produce more energy than standard panels, fewer panels are required.
"With SunPower you get more efficiency per panel than any other panel on the market", said Rosh.
"They maximise roof space and generate as much performance as possible".
Rosh also explained that SunPower only chooses to partner with high-quality retailers such as Elite Smart Energy Solutions, which is especially important since solar panels are designed to last a long time and you'll want an installer that will be there for the long haul.
"You want to choose the top installer as you're choosing something that's there to last at least 25 years – and in the case of Sunpower's latest product, it's designed to last for 40 years".
In addition to the solar PV system and home battery, the family also installed a solar hot water heater through Energy Matter's installer network, meaning they now have a completely solar-powered home, both day and night.
The result? A townhouse that's big, beautiful and energy-efficient – with $0 energy bills! Steve said the solution has completely eliminated the need to worry about their electricity use.
"It's been a big big win", he said.
Watch the full episode here on 9Now.
Open Homes Australia: Season 5 Airing Now
When you buy a home, you're not just buying a roof over your head – you're buying a place to call your own, a sanctuary from the outside world. Your home should be a reflection of your unique style and personality, and it should be a space that you're proud to come home to at the end of a long day.
Here at Energy Matters, we believe that the best homes are designed with sustainability front of mind – not only will a sustainably-designed home keep you comfortable year-round, but it will save you thousands in energy bills while also helping the environment.
Energy Matters is thrilled to be partnering with Open Homes Australia for its 5th season.
This season continues the tradition of showcasing incredible Australian homes, breath-taking designs, and sustainable choices that will be sure to inspire and awe you. Featuring some of Australia's most recognisable designers and creatives, as well as many from your favourite seasons of The Block and Renovate or Rebuild – this is a show you don't want to miss!
Catch the next episode on Saturday April 9th @ 4:30pm on 9Life!