It wasn't so long ago that Electric Vehicles (EVs) were a bonafide novelty in Australia. While they aren't yet mainstream and you'll still hear motorists say things like, "Oh look, there's a Tesla", latest sales figures from the Electric Vehicle Council (EVC) hint that we're on the brink of a boom.
Thanks to incentives introduced by state governments to support their uptake as well as increased demand from consumers due to rising fuel prices and concerns about climate change, the number of EVs on Australian roads has nearly tripled. Australia recorded 20,665 EV sales in 2021, a significant increase from the previous year which saw just over 6900 sold. This means electric cars now make up approximately two per cent of total vehicle sales in the country, up from 0.78 per cent in 2020.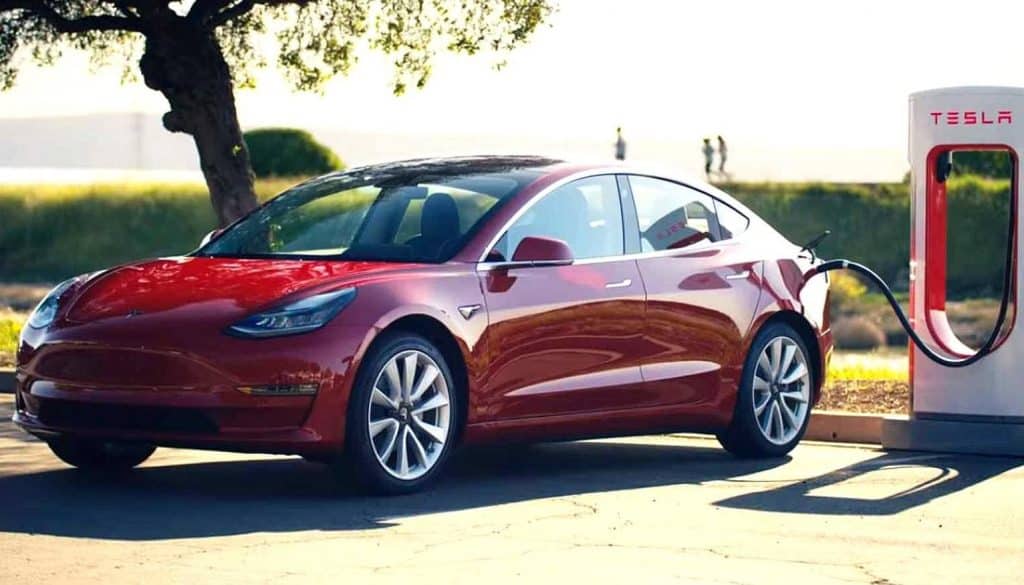 Tesla dominates the market
The EVC figures revealed the most popular electric car by far was the Tesla Model 3, selling 12,094 units last year – accounting for 58.5 per cent of all EVs sold. It was followed by the MG ZS with 1,388 and the Mitsubishi Outlander with 592. Tesla's Australian sales figures were previously suppressed and had to be estimated but have now been released following a deal between the Electric Vehicle Council (EVC) and the US company.
Top 10 BEV & PHEV models
| | | |
| --- | --- | --- |
| 1 | Tesla Model 3  | 12,094   |
| 2 | MG ZS | 1,388  |
| 3 | Mitsubishi Outlander  | 592 |
| 4 | MG HS | 580 |
| 5 | Porsche Taycan  | 531 |
| 6 | Hyundai Kona  | 505 |
| 7 | Volvo XC40  | 495 |
| 8 | Hyundai Ioniq | 407 |
| 9 | Nissan Leaf  | 367 |
| 10 | Mercedes-Benz EQA | 367 |
Australia "at the precipice of an EV economic boom"
While Australia's EV uptake still lags behind other nations – Western Europe for example has an EV market share of 11.2 per cent – recent growth is a positive sign that the tide is turning when it comes to our transport network, and we can expect even more growth in the years ahead as prices for electric vehicles continue to drop, charging infrastructure booms and more incentives are introduced.
When looking at what is responsible for this recent growth, it's clear that state governments are doing the heavy lifting with a mix of policies designed to support uptake, including stamp duty waivers and rebates. The numbers speak for themselves; the Australian Capital Territory – widely considered to have the most generous policies in the country – consistently outperforms every other jurisdiction with a market share of 5.87%.
The EVC said the release of its 2021 sales data showed Australia was "at the precipice of an EV economic boom", and called on the Federal Government to follow the leads of the states and territories that have introduced EV incentives.
"We've been waiting for quite a few years to hit the 1% mark, so to skip that and go straight to 2% is a big deal," Mr Jafari said.
"The penny has now well and truly dropped on how good electric vehicles are. Most people in the car market will now be considering an electric option. The role of government is to help them make the jump."
"Governments that take the path of encouragement will capture myriad societal benefits – cleaner air, reduced respiratory illness, smaller carbon footprint, quieter roads."
"It's great that some state governments have received the global message, but at a national level we're stuck in the past. We desperately need the federal government to introduce Australian EV rebates alongside fuel efficiency standards, just like other developed nations. If we get these changes, you'll see sales figures really rocket ahead."


Is an EV right for you?
If you're in the market for a new car now or in the near future, you might be considering an EV. But, how do you know if an EV is right for you?
Budget-wise, the upfront costs of EVs remain relatively expensive compared to petrol-driven cars. However, as more models enter the market, the price of EVs in Australia are expected to drop. Industry experts predict full manufacturing cost parity with petrol-driven cars by 2025 at the latest.
Besides budget considerations, the first question to ask yourself is whether your lifestyle suits the needs of owning an electric vehicle. While charging infrastructure is rolling out across the country, range anxiety can still be an issue for some drivers. If it's likely that you'll be taking a lot of long road trips or travelling large distances regularly, then perhaps at this stage in time EVs aren't the right choice for you.
However, if your daily commute is relatively short and you're looking to save money on fuel costs in the long run, then an EV is certainly worth considering. 
Some key benefits of owning an EV include:
Reduced running costs: according to the EVC, powering an EV is around 70 per cent cheaper compared to a car with an internal-combustion engine powered by petrol or diesel, saving EV drivers, on average, $1600 in fuel costs each year. These savings can be even deeper for households with rooftop solar installed, as EV owners can charge their vehicles from their own electricity generated during the day.
Reduced maintenance costs: EVs are cheaper to maintain than petrol-powered cars and don't require oil changes, spark plugs or exhaust systems. With fewer moving parts in an EV compared with a traditional car, there are also less components that break down over time and need to be replaced.
No emissions: electric vehicles produce zero emissions, which is great for the environment and can help improve air quality in urban areas.
Quieter driving experience: EVs are much quieter than petrol cars, making them a more pleasant drive for both the driver and passengers.
Even if your next new car isn't electric, it's only a matter of time. The wheels are already in motion; Australia is transitioning to a low-emissions future, and EVs are a big part of that. Eventually, EVs will dominate the new car sales market and the novelty will become the norm.
Are you EV ready?
Charging your car with solar power during the day boosts the business case for both your solar installation and your electric vehicle. Take our quick solar quiz for up to 3 obligation-free solar quotes from trusted local solar installers in Melbourne.