Development approval has been granted for a huge wind and solar farm to be constructed in the Port Augusta region of South Australia.
Publicly announced in 2015, Ireland's DP Energy began working on the project in 2010.  The project entered consultation phase in February this year; before getting the nod from the South Australia's State Government last week.
Once fully up and running, the Port Augusta Renewable Energy Park will consist of up to  59 wind turbines and 1.6 million solar panels. Combined, the Park will boast a generation capacity of up to 375 MW and be one of the largest hybrid renewables projects in the Southern Hemisphere.
The huge power station will generate around 1,000 gigawatt hours (GWh) of clean electricity annually, enough to power approximately 200,000 households. It will avoid 470,000 tonnes of carbon dioxide emissions each year.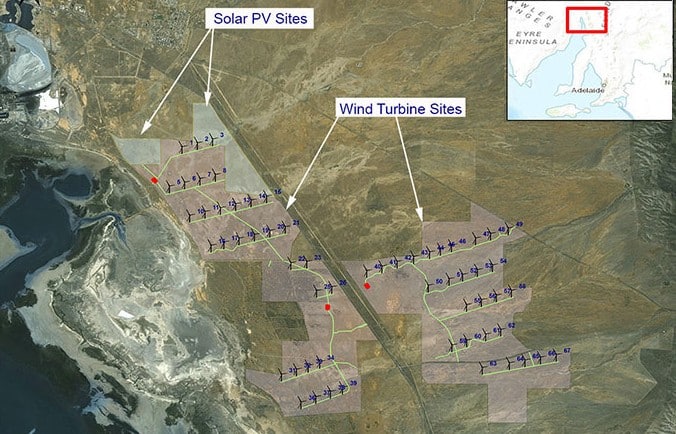 Located near the former Northern Power Station on the coastal plain south-east of Port Augusta, the project will create up to 600 jobs during peak construction activities; employment that is urgently needed in the Port Augusta region. Ongoing operations will provide employment for 15 – 20 workers.
Construction is expected to commence in 2017 and last around two years. Once the Park reaches the end of its predicted lifespan ( 25 years), the site will be decommissioned and returned to its former condition or existing equipment will be replaced with the latest technology
"The Port Augusta Renewable Energy Park represents a new breed of renewable energy generation which will deliver the right power at the right time for energy consumers, and deliver economic benefit to the region and the State," said DP Energy CEO, Simon De Pietro.
"The state has great natural resources in both wind and sun coupled with a clear regulatory framework, an excellent case management service and a professional and independent planning assessment process."
With the region's wind resources primarily driven by the temperature difference between the land and ocean, this means a regular early evening peak that aligns well with the daily peak demand for electricity. The wind is at its strongest during the summer months, so energy generation also peaks when it is most needed; when air-conditioners are in heavy use.
"When this evening wind generation temperature effect is coupled with large-scale solar generation (which has a midday peak) a good match to overall demand can be achieved thereby supporting the electricity network and placing downward pressure on wholesale prices," says DP Energy.
Further information on the Port Augusta Renewable Energy Park can be viewed here.
Top Right Image Credit (Wind Turbine): BigStock