In the second 'Renovate or Rebuild' episode of the season, Jessie and Mel face off against fellow Victorians Bec and George.
Jessie and Mel, Victoria's Team Renovate, became household names as star contestants on Channel Nine's, The Block, and there isn't much that this dynamic duo can't do. With Jesse's real estate background and Mel's project management skills, they are the perfect team for the job.
On Team Rebuild we have The Block fan favourites, Bec and George. A superstar designer and a brilliant builder, these guys truly are the dream team! They know first-hand the constraints and challenges of a renovation and will jump at the chance to knock a house down and rebuild.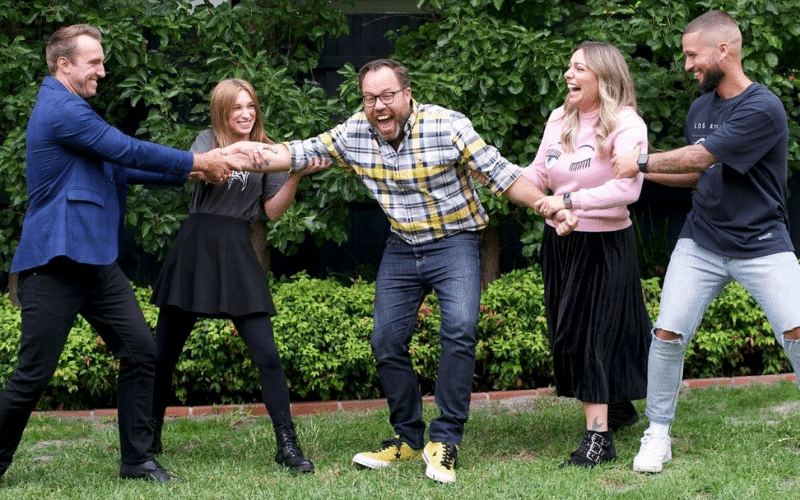 A lot to love, but they've run out of space!
Allow us to introduce you to young Victorian couple, Sarah and Damon, along with their two boys, Charlie and Billy, baby girl, Chloe, and beloved family bulldog, Chelsea.
A little under a year ago the family moved to Croydon, a beautiful leafy outer suburb of Melbourne, 28km east of CBD with a median house price of $770,000.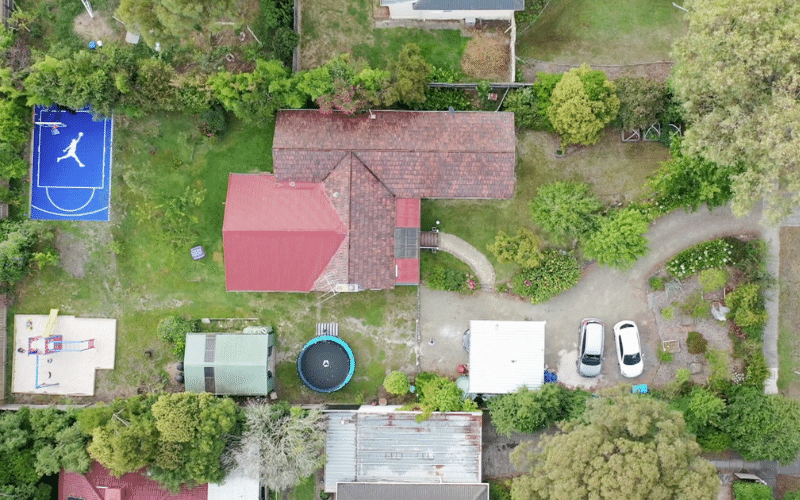 Damon grew up in the area but eventually moved further North. However, with lots of family living nearby and three young kids now to care for, the decision to move back to Croydon was an easy one.
"The extra help is obviously ideal", said Damon.
Not only that, but Damon and Sarah really love the area, especially with an abundance of beautiful parks, sports and recreational facilities, good schools, and many other attractions for a family with young kids.
As soon as host, James Treble, turned up to the house he could immediately see that the family has a great block of land. The brick house is solid with beautiful timber floors throughout. So what exactly isn't working for the family?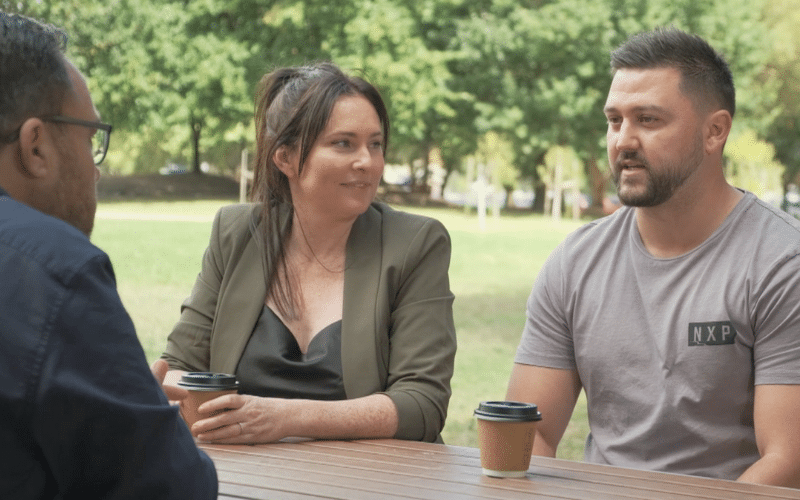 "The house is actually great", admitted Sarah. "The previous owners did some work to it and did a great job but it's not big enough for us. We have three young kids and not enough space to fit everyone in".
Not only is living space an issue but both Sarah and Damon work from home. With no dedicated study, the couple must take turns working in the spare bedroom which also triples as a sleeping space for their baby.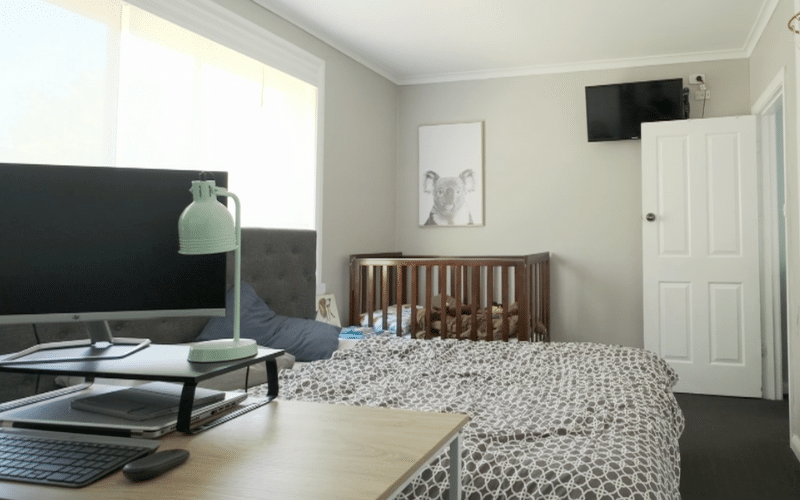 There is one feature of the property that Sarah and Damon really love – their backyard. They bought the house for the block and, at just under 1500 square metres, it boasts an incredible backyard space with ample room for the kids to play and run around.
Energy efficiency
When asked about their energy bills, Damon and Sarah admitted they didn't enjoy receiving them. The house would get very hot during summer when they first moved in so they installed air conditioning to even out the temperature. In winter, the house gets very cold and they tend to use heaters all day, especially now with a baby.
In addition, since the couple works from home, their energy usage would be consistent throughout the day. Without solar panels to offset the cost, their bills are very high.
Like most families, they would love to reduce their energy bills.
Looking to go solar? Join thousands of Australians that are making the switch. Energy Matters can help with up to 3 obligation-free quotes from trusted local installers. Go solar today, start saving tomorrow.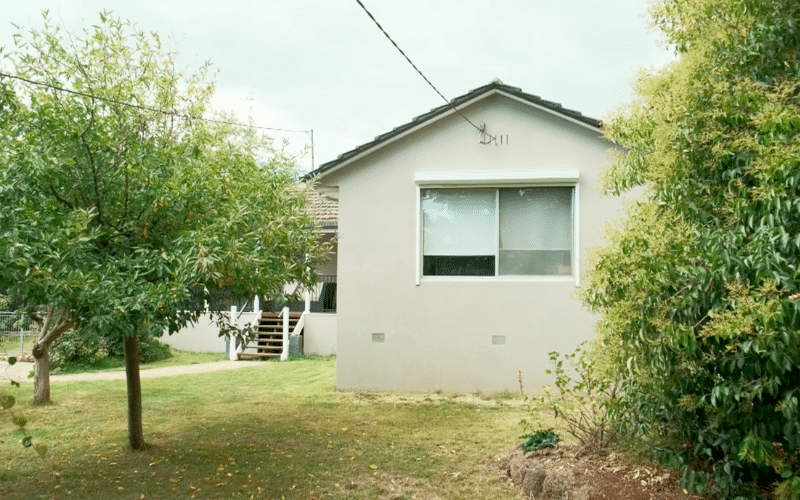 Sarah and Damon's brief:
Sarah and Damon ultimately want a family home that their kids can grow up in and love. To achieve this, they have assigned the following brief for our teams:
More interior space
More bedrooms
Designated home office
Keep the backyard spaces they've created
Efficient, comfortable and healthy home with smaller energy bills or none at all
Want indoor/outdoor living area but needs smart design to retain backyard space
Maximum budget of $400,000
Team Renovate: Jessie and Mel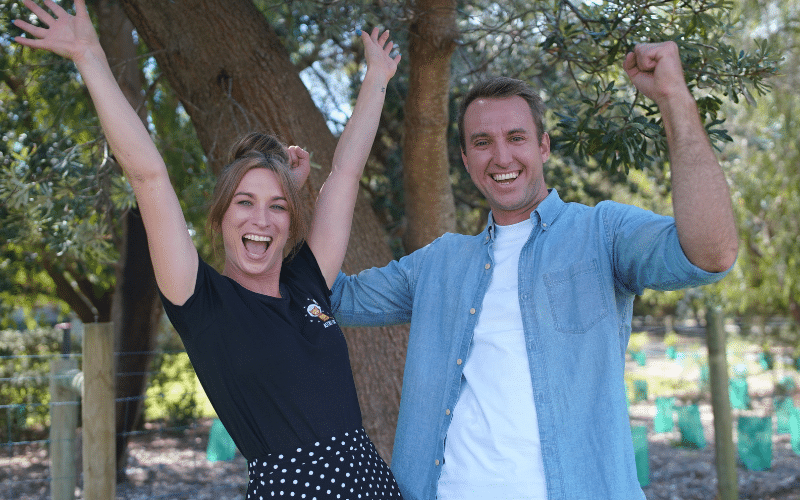 The first thing that caught the team's attention was the size of the block and the long driveway. "It's huge", said Mel.
While they liked the classic rendered brick exterior, they both agreed it is lacking in character – but they could easily add that. Like James, Jessie and Mel thought the house was in good shape.
"It's like brand new!" said Mel.
They were both adamant that there is no way you would pull this house down.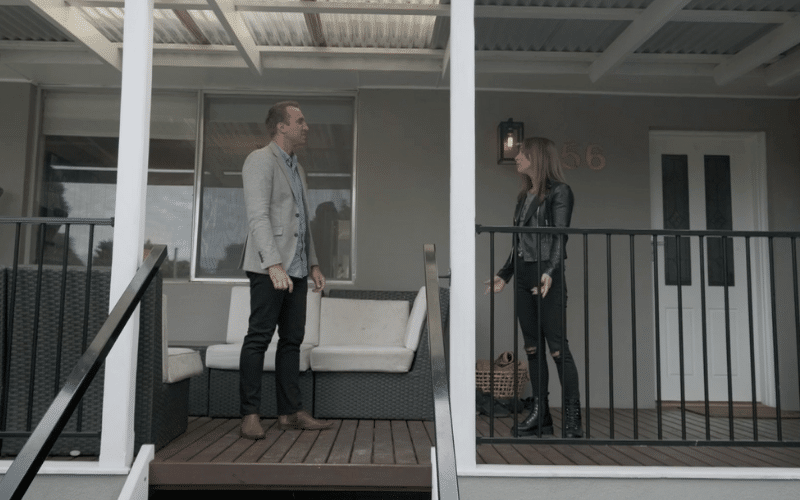 First impression of the inside was a bit less enthusiastic. Jesse acknowledged the cramped entrance, saying there are a few walls that need to go. Mel exclaimed the dark rooms reminded her of a bat cave.
As they moved to the North facing dining and kitchen area at the rear of the house, they suggested that floor to ceiling windows would take advantage of the natural lighting. They also felt the orientation of the kitchen was wrong, but were wowed by the big backyard. Jessie noted that there was no outdoor area connected to the main indoor living area and that it needed to be opened up.
"You've got a 1,400 square metre block but it feels like you're living out in suburbia".
Final thoughts: the house has potential; just put a bit of work into it but definitely don't get rid of it!
Team Rebuild: Bec and George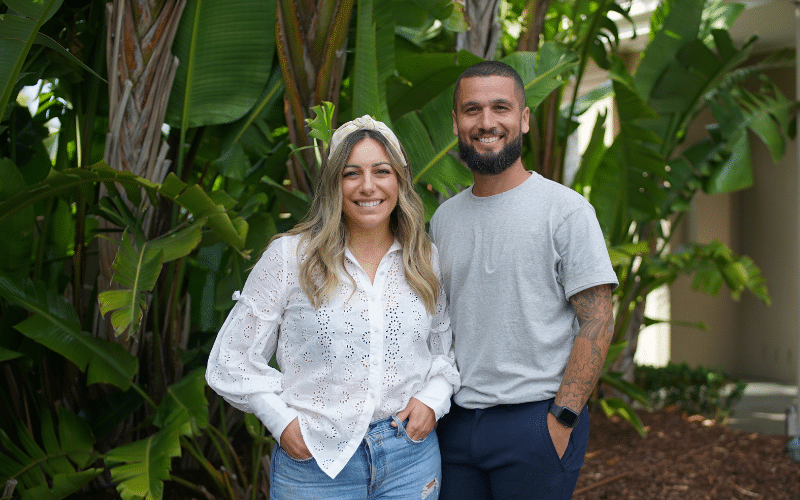 As Bec and George walked towards the property, they were struck by how far the house was set back from the street. George questioned whether the curve of the driveway wastes too much space.
Bec admitted she was underwhelmed with the exterior design of the house, saying it's just not something worth keeping in term of features, unlike a Californian bungalow or a Victorian. "This is a bit 'meh' to me".
Upon entering the house, the team were far from impressed. They felt it was very dark – almost like hitting a wall as soon as you enter. Touring the office/spare bedroom/nursery combo, Bec commented that there really is no room. As they moved to the back of the house, George appreciated the amount of natural light the space got but thought the orientation of everything is wrong.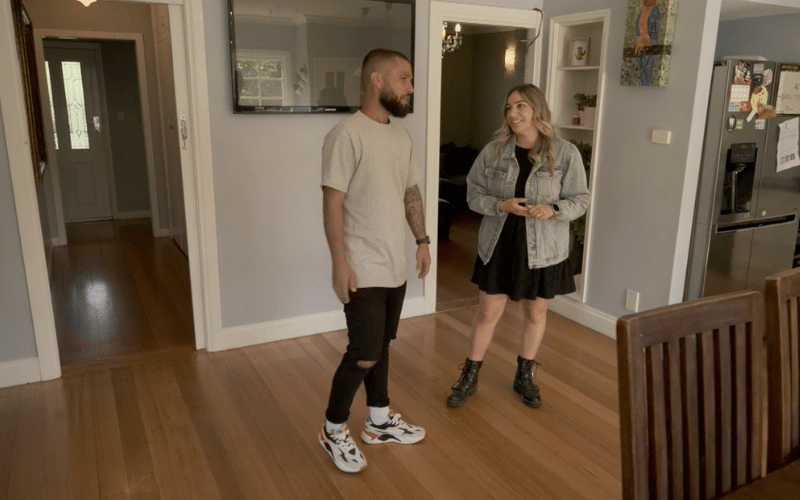 Both were keen on designing a nice outdoor living space for the young family.
"The first thing i noticed about the house is just how much I wanted to knock it down", laughed Bec.
She continued by saying that, despite the impression that renovating is a cheaper option, it's actually not in this instance – so why not knock it down and do something amazing?
Designs: Ideas and Inspirations
Assisting both teams with their designs is Bojan Gangur, Associate Director at Blue Cube Developments. Bojan has many years of experience building and developing both commercial and residential field and, in collaboration with Konzepte Architects, he aims to bring the designs to life.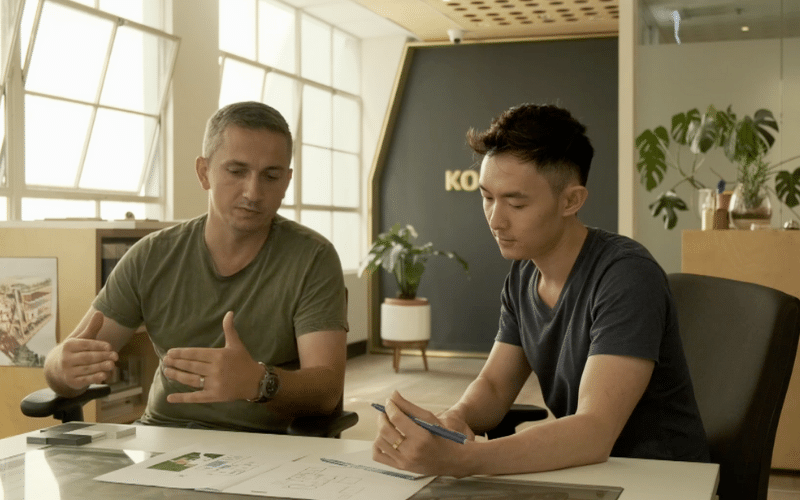 Bojan said he can totally understand Bec and George's concept of wanting to knock down the home and redesign it the way they like it. The only downside is the budget. On the other side of the coin, Bojan said you can definitely save a lot of money just renovating the existing home, but it all depends on how much damage the house has behind the walls.
With regards to achieving a comfortable, healthy and efficient home with lower energy bills, Bojan said that a brand new house has the edge with far superior thermal performance.
Taking into account the team's suggestions while also accommodating Sarah and Damon's wish-list and budget is no easy feat, but Bojan is up to the task.
While Bojan worked on the designs, the teams and homeowners visited a number of incredible properties for further inspiration.
Jessie and Mel took Sarah and Damon to visit a grand estate in Plenty, Victoria that captures resort-style living for all the family. The house is built with smart materials including tilt up concrete panels and bondor cladding for acoustic and insulation purposes. The house features expansive open living areas that surround the pool as the main feature. It also has some fun, hidden rooms incorporated throughout the design.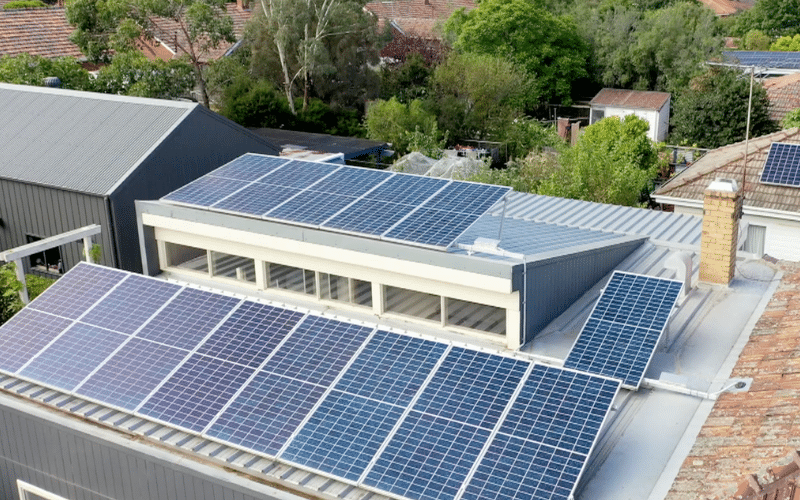 Jessie and Mel also visited a new property in Sedgewick in Rural Victoria, to get some inspiration for their windows, including the unique option of tilt and turn windows.
Finally, Jessie and Mel visited Jason Venning's house in Preston to look at a FIMER solar and battery storage solution that they are hoping to incorporate in their design.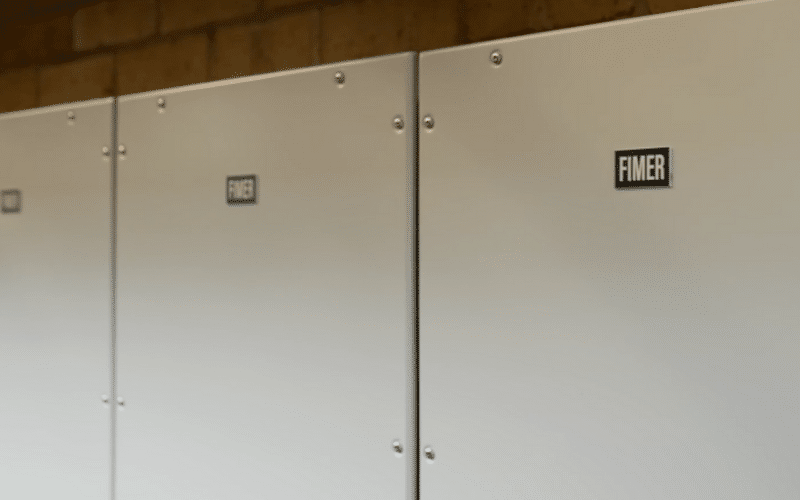 Jason, Country Manager (AUS and NZ) at FIMER, explained the benefits of the hybrid FIMER battery and invertor system. He said having your solar invertor and battery invertor in one box means that your solar panels can capture energy from the sun for use during the day, and then the battery will store any excess energy for power when you need it at night – whether for cooking, watching TV or even charging an electric vehicle. The future of electric vehicles is fast approaching, and Jason explained the cost of charging your EV is but a fraction of the price of filling your car with petrol or diesel.
But how will Jessie and Mel estimate the size of Damon and Sarah's solar system?

Energy Matter's fast and free solar power and battery storage calculator is a handy way to work out how big a solar and battery system should be based on your location and energy use.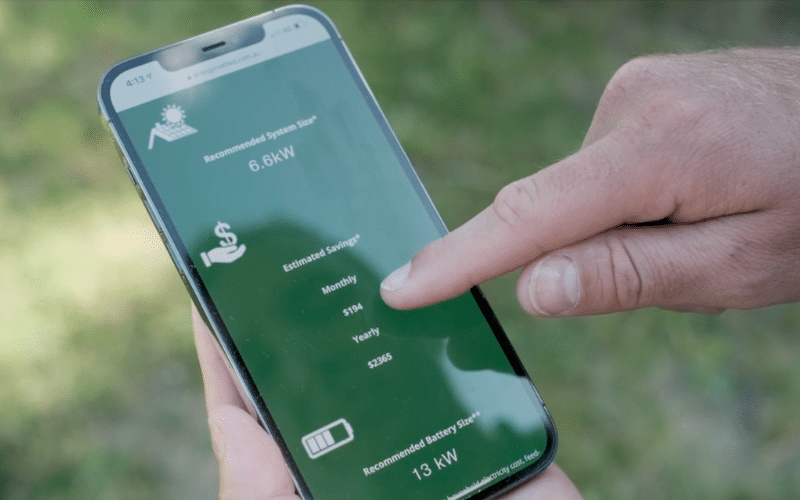 Meanwhile, Bec and George visited a new Metricon home in Officer that follows Sustainability Victoria's Zero Net Carbon Home pilot program that aims for efficiency and affordability. Bec and George were immediately impressed with the welcoming yet grand scale of the build. They want their design to reflect the same principles of balancing aesthetics with efficiency and comfortability.
Final Designs
Team Rebuild design highlights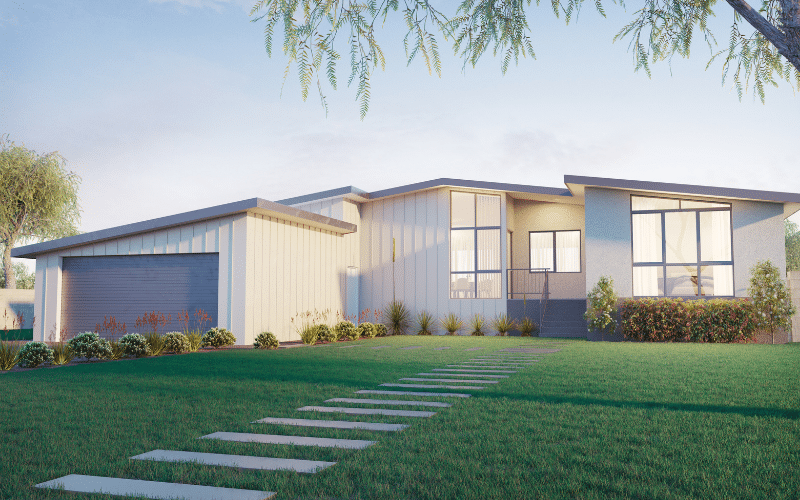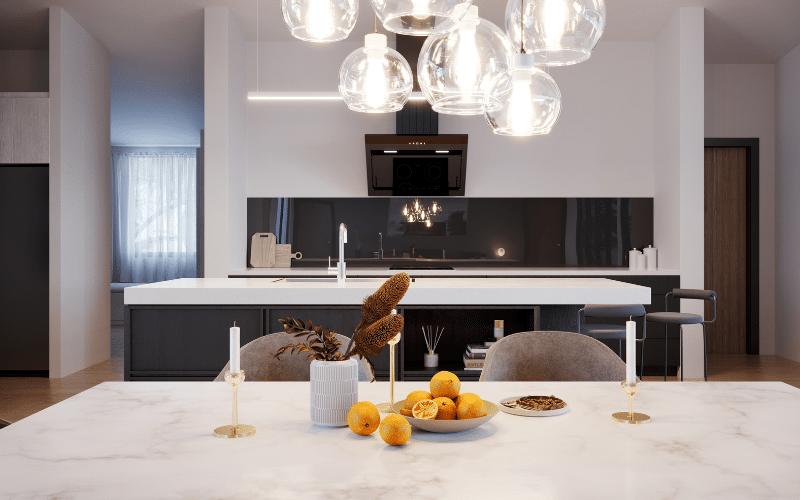 Changed orientation of existing layout to maximise space and natural light
Bondor pre-fabricated panelling for quick construction
Enclosed double-garage
Facade featuring stunning roof, architectural lines and large feature windows, with vertical cladding adding interest
House built to the side boundaries with the footprint brought slightly forward on the block
'H' shaped floorplan opens up kitchen, living and master bedroom to outdoor alfresco area and backyard
Master bedroom and 3 other bedrooms on Eastern side of the house and study situated North-West
Beautiful indoor/outdoor space to achieve "perfect Australian home"
Materials used throughout are elegant and classic
7.1 star energy rating
Total cost: $640,000
Team Renovate design highlights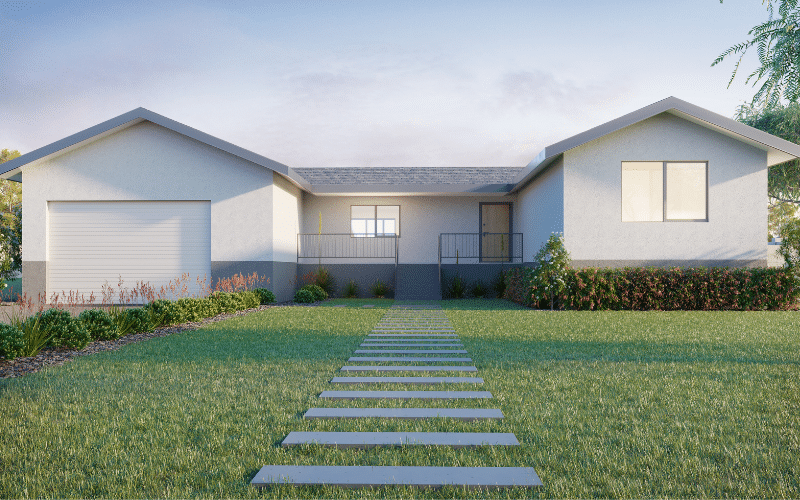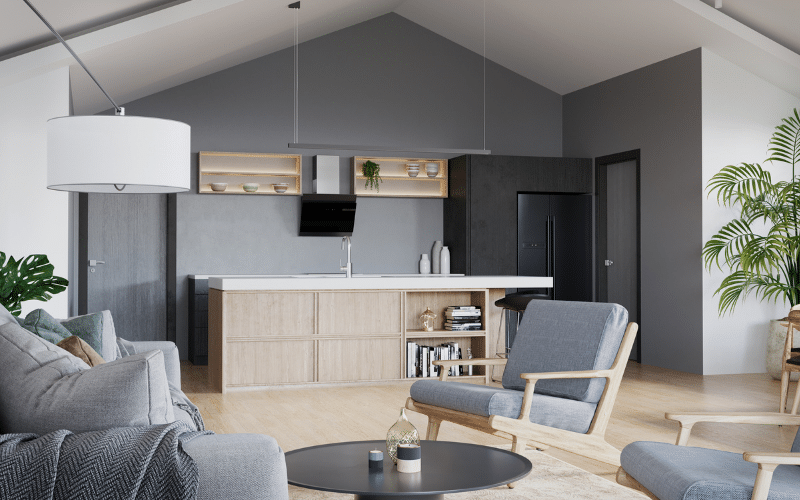 Added large extension to left of the existing property
New enclosed double-garage gives symmetry and resolve to the facade, creating a welcoming entry
Bedrooms retained along eastern side, but added an additional bedroom to make it a 4 bedroom house
Added study facing the backyard for easy supervision of kids
Previous living and kitchen area transformed into extra bedroom and study with views to the backyard
Large extension with North-facing kitchen and living area. Kitchen looks directly through open-plan living area out onto the huge alfresco and further into the backyard
Orientation maximises use of Northerly-aspect for natural light and free heating from the sun in winter
Tones and materials are simple and classic
High-pitched ceiling of extension brings a sense of grandeur to the space that continues out to alfresco area
Total cost option 1 (basic 6 star energy rating): $340,000
Total cost option 2 (upgrade to 7.1 star energy rating): $420,000
Verdict
The two different solutions were judged by an expert panel on style, sustainability, and cost. The judges are real estate expert, Mark Di Giulio, building and property expert, Natalee Bowen and interior designer, James Treble. Each judge will give a final score out of 10.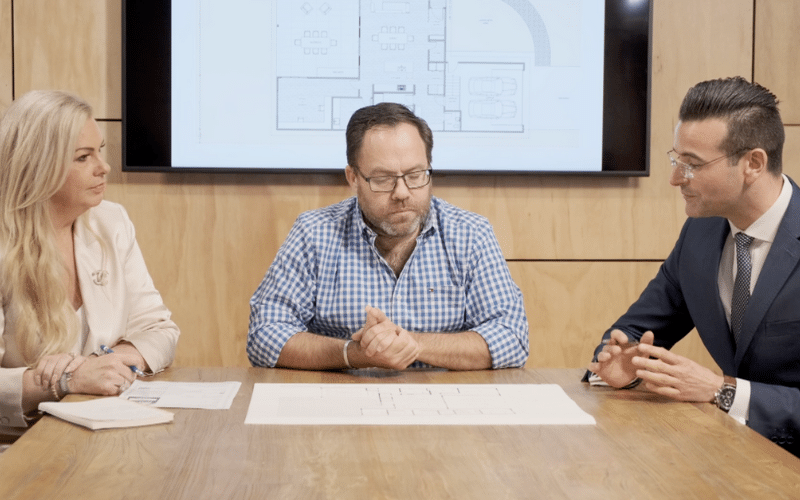 Ultimately the decision will come down to Sarah and Damon — will they renovate or rebuild? Their decision will add an additional two points to the final tally.
Team Rebuild
Mark: Loved big, open floor plan and indoor/outdoor entertaining. Thinks facade is elegantly understated with a "wow" factor when you go indoors. Biggest concern is that home could be interpreted by homebuyers as a "big small" property (spaciously designed home with a small footprint). Thinks there's a lot of value in having a brand new home with warranties, builder's insurances and guarantees. Score: 8.5/10
Natalee: Loved the design aspect of using the bondor panels for a fast build. Concerned about size of the living space. With family of 5 plus a dog, thinks the family needs at least another living space. Score: 8.5/10
James: Utilised the large block well. Loved zoning of the build, particularly the sleeping zone. Loved high ceiling right through the middle as it makes the space feel large. Agrees that any modern home needs at least two living spaces Score: 9/10
Total Score: 26/30
Team Renovate
Mark: Thought they did an incredible job of creating two distinct living zones. For many families looking to buy, it's going to be a huge winner. Represents a great ROI, especially considering their budget. Concerned that laundry area is positioned in middle of house which is unconventional. Score: 8/10
Natalee: Loved the full extension, particularly how they rejigged the layout to give them two living spaces. Thinks it offers real bang for buck. Feels like you're getting a brand new house. Score: 9/10
James: Likes the design in principle and thinks they've done a great job. Thinks they created a more resolved, balanced design by adding the extension. Likes how the extension didn't interfere with backyard or front yard. Score: 9.5/10
Total Score: 26.5/30
Final decision: Renovate or Rebuild?
Team Renovate get the judges nod of approval, but Sarah and Damon have two final points to give. What will their decision be?
Sarah and Damon loved Team Renovate's extension, particularly the high-pitched ceiling. They thought the alfresco size was really good. Mostly, however, they were impressed with what Jessie and Mel were able to achieve within the budget.
What they loved most about Team Rebuild's design is that it is different, especially with the dynamic angles of the facade.
The final decision came down to being realistic and knowing what their family wanted to achieve long-term. Based on that, Sarah and Damon decided to go with Team Renovate's design, giving Jessie and Mel a total score of 28.5.
What a fantastic result for Sarah and Damon, getting a home that ticks all their boxes while staying within their budget!
Stay tuned for next week's episode, airing Monday night directly after the Block on 9Life at 8:30pm. Missed an episode? Catch up with episodes available on demand on 9Now following the broadcast.

Want to join Sarah, Damon, and millions of Australians in making the switch to solar? Visit Energy Matter's dedicated Renovate or Rebuild TV Specials page for exclusive solar and battery storage offers, a free energy comparison tool, free solar quotes, and much more.