The success of micro-solar power in Bangladesh is being enhanced with "swarm electrification", a peer-to-peer solar energy trading concept based on nano-grids.
In 2014, Bangladesh Prime Minister Sheikh Hasina announced a plan to provide 3 million more rural families with small solar power systems and battery storage over the next three years. ME SOLshare Ltd. was also founded in the same year.
The company designed an innovative charge controller for micro-solar energy systems that enables and manages interconnection between households, plus facilitates electricity trade.
The charge controller, SOLBox, is an affordable pay-as-you-go device that has two options – buy or sell.
SOLshare installs all the necessary equipment including SOLbox and then to use the service, an agent is visited or payment is made via phone. An SMS is sent with a token, which is entered into SOLBox.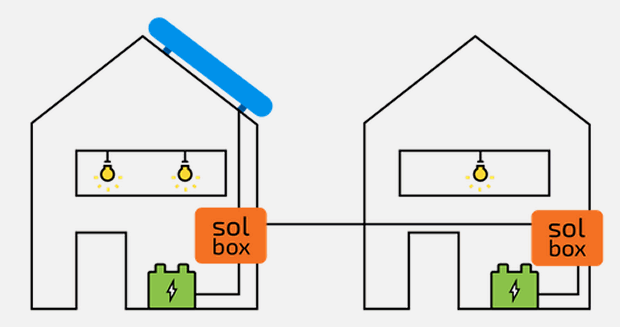 "The system works like a swarm of bees in that it is self-organised. Meaning that energy sharing across the nano grid is not controlled from above," says SOLShare; referring to the lack of interference from utilities.
"Rather, the power sharing occurs through individual users deciding when they want to trade surplus solar energy and when they want to keep it."
The company has gained significant recognition for its efforts.
ME SOLshare was the winner of the Intersolar Award 2016 in the category of "Outstanding Solar Project" and was one of 13 winners of the United Nations climate change awards in November.
The pilot project in  Shariatpur, Bangladesh, was the world's first ICT-enabled peer-to-peer electricity trading network for rural solar and non-solar households.
SOLshare expects to operate more than 20,000 nanogrids in Bangladesh by the end of 2030, which could supply more than 1,000,000 customers.
Bangladesh's micro-solar initiatives have brought light to millions, but there's still much work to do in electrifying the country. The nation consists of 29 million households, with 17 million of those off-grid. Bangladesh has an electrification rate of just 28%.
As well as assisting households with meeting basic energy needs, Bangladesh's farmers have also been gaining a helping hand via solar power. Last year more than 300 solar powered water pumps were installed under a World Bank assisted program; with more on the way.
See Energy Matters' guide to peer to peer (p2p) solar energy trading.