The race is on between Australian and British research teams to see which country can first release ground-breaking solar panels that can produce up to a third more energy.
An Australian research team that is led by UNSW and works in collaboration with the University of Sydney along with a British research team at Oxford PV are both working on breakthrough crystal-coated solar cells and it is expected this new technology will be ready for installation on rooves by 2021.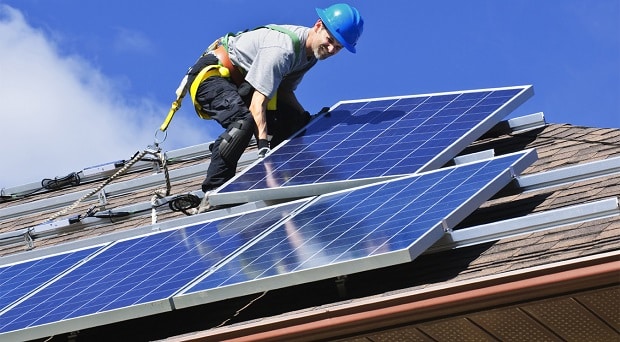 Oxford PV is a solar technology firm that has made international news in recent years, innovating world record-breaking technology to deliver the highest silicon solar cell efficiencies and being named in the world's top 50 most innovate companies by MIT Technology. Now, the English company has come up with another breakthrough and hopes to have these new solar cells ready for manufacturing by the end of the year.
The wonderful world of perovskite
Oxford PV has been trialling coating traditional silicon cells with a crystal material called perovskite which has a range of qualities when applied to electronics and telecommunication technologies including superconductivity, magnetoresistance, ionic conductivity, and dielectric properties.
Normally a solar cell can only convert up to 22 per cent of available solar energy into electricity, but Oxford PV is claiming these crystal cells have achieved a world record of 27.3 per cent.
"Silicon has reached its culmination of capability," Oxford PV chief technology officer Dr Chris Case said. "There are residual improvements to be made, and cost of production opportunities, but from a performance standpoint it is at its efficiency limit. The perovskite material is something totally innovative for solar."
But while the British may be hitting world records, the Australian team might be closer to commercial release.
Australian testing of perovskite solar panels close to meeting international standards
While trumpeting results is one thing, releasing a product that is safe and compliant is another and that is where Australian researchers are leading the race.
The UNSW and University of Sydney team put their metal halide perovskite solar cells under heat and humidity testing in May this year, essential for Australian conditions, and passed International Electrotechnical Commission testing standards which are notoriously strict.
Professor Anita Ho-Baillie is part of the Australian team and she said that these new panels were inexpensive to manufacture and purchase, were thinner and lighter and had stood up to all of the rigorous testings their team had thrown at them.
"We are able to stabilise perovskite cells under the harsh International Electrotechnical Commission standard environmental testing conditions. Not only did the cells pass the thermal cycling tests, but they also exceeded the demanding requirements of damp-heat and humidity-freeze tests as well," she said.
Oxford PV has announced ambitious plans to have their perovskite solar cells ready for manufacturing by the end of 2020 and ready to install on homes in 2021. And with the Australian team hot on their heels, ultimately it is the consumer who will win.
References
https://www.theguardian.com/business/2020/aug/15/uk-firms-solar-power-breakthrough-could-make-worlds-most-efficient-panels-by-2021