If you are still on the fence about whether or not to switch to solar, then don't worry! You are not alone. There are plenty of reasons why someone might be hesitant about making the investment – and we're here to talk about them. We will discuss the 8 most common reasons that people give for not wanting to make the switch, and our thoughts on each reason. Is getting solar panels a good investment? Is it worth it? We hope this article helps you with your decision process!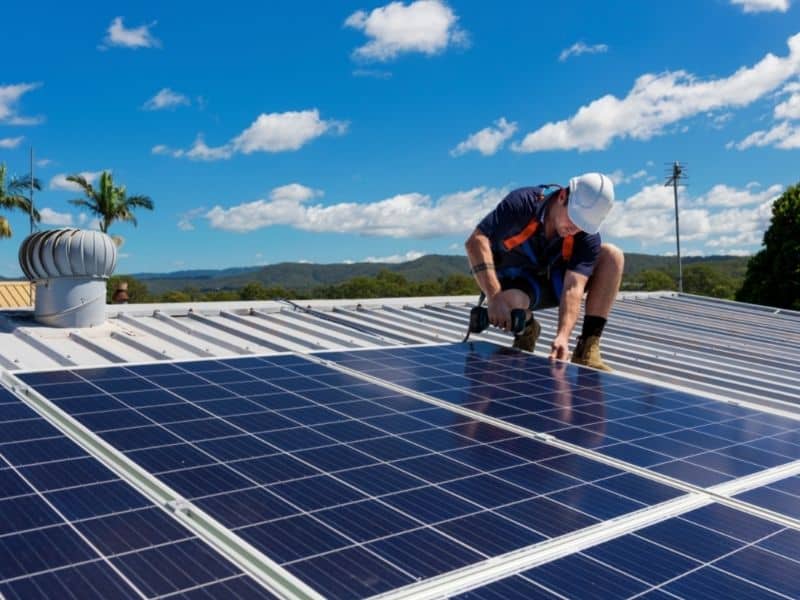 Reason 1: Solar panels are expensive / I can't afford them right now
This is probably the most common reason that people give for not wanting to switch to solar. And it's understandable. After all, not everyone has thousands of dollars saved away for solar.
However, the upfront cost might not be the barrier you think it is. In fact, many people are surprised when they discover how much cheaper solar is than they thought! The price of solar panels have dropped dramatically in the last few years as more competitors and models have entered the market. Once you factor in federal and state government incentives, you might find the up-front cost to be significantly lower than you expected.
Remember, a solar installation is a one-off cost and should be viewed as an investment that will save money long term. Life expectancy for the typical system is up to 25 years and, with an average payback period of a few short years, you will reap the benefits of low electricity bills for many years to come.
For example, installing a 6.6 kW solar system in Sydney can save you over $16,000 in electricity bills over 10 years. That represents an excellent return on investment when you consider the system will likely cost you less than $6,000.
For those who don't have the cash right now, there's also the option of $0 up-front interest-free leasing that many installers are offering. You can pay off your panels in low monthly instalments all while reaping the benefits of immediate savings on your electricity bills. And remember, solar panels really do pay for themselves in savings, sometimes in as little as two years.
Reason 2: I don't have time / I can't be bothered going through the process
Another common reason that people give for not wanting to switch to solar is that they don't have time or are too busy. Whether you're at work all day, taking care of kids/pets/elders… it can be hard to find the motivation and make the investment in something like solar.
However, going solar doesn't have to be a massive hassle! It only takes a few minutes to get quotes and your solar company will handle most of the work from that point. As with most things in life worth doing, the small inconvenience is insignificant in comparison to the benefits you'll receive in the long-term.

Reason 3: I'm not home during the day
What if you're hardly home during the day when the sun shines brightly and your panels will be most productive? While this is a reasonable concern, it's an issue that can be solved with some planning.
The most effective strategy to make the most of your solar system is, without a doubt, to connect it to a solar battery. While you're not at home, the battery will charge and provide energy for future use.
If you aren't in a position to purchase a battery at this point or if you are waiting for the price to drop, you can still find ways to maximise your solar energy when you're not home. For example:
In the laundry, use the delay start option to run your washing machine around midday (peak sun hours)
Use the same timer feature on your dishwasher
Charge up your devices during the day and use their batteries at night
For any electricity you aren't able to use during the day, most solar owners can likely still receive some benefit in the form of feed-in-tariffs when that excess energy gets sent back to the grid.
Reason 4: Solar isn't worth it anymore. Feed-in-tariffs aren't what they used to be! What about the 'Sun Tax'?
A feed-in-tariff is the payment you get from your solar system's excess power that gets fed back into the grid. In the early days of solar energy, feed-in-tariff rates were much higher, meaning consumers not only saved on their power expenses but also earned a significant amount of money from their excess electricity.
Just because this is no longer the case, does not mean solar is no longer worth it.
What many people don't remember is that the upfront cost of solar systems used to be significantly higher than it is now. These days, with far more affordable systems, you don't need to rely on the extra money from feed-in-tariffs to realise a fast return on investment. In fact, feed-in-tariff returns should be viewed as a bonus to your savings.
It's also worth noting that, while feed-in-tariffs have decreased, generous solar rebates are still available in most states. These rebates take thousands off the up-front cost of a typical system!
As for the much-lauded "sun tax"… Despite the sensational headlines and commentary, solar owners need not panic. As we've discussed at length in a previous article, solar export tariffs aren't as bad as they may seem. Worst-case scenario, solar owners will lose 10% of their current revenue.
Reason 5: Solar panels look ugly
While some people don't have any problem with the look of the panels, it is not the case for everyone. Many people are hesitant to install solar panels because they don't want something unsightly on their roof. But don't worry—solar panels don't have to be ugly. If you don't like the look of the solar panels at all, it is feasible to work around your needs and make sure that your installation cannot be seen from the street. Of course, it will be dependent on your roof orientation and design.
Solar really has come a long way in terms of aesthetics. For instance, you can always opt for black solar panels instead of the standard blue. Another, more expensive option are solar tiles. These tiles are revolutionising the rooftop solar industry. They look very similar to regular roofing tiles and may even be more durable!
Whatever option you choose, there's no doubting that an experienced solar company can find a way to make your system either an invisible or attractive feature of your property.
Reason 6: I don't trust solar installers
Like with any industry, there are some undesirable players who can taint the name of the entire industry with their bad practices. You may have heard of 'solar cowboys' or 'phoenix companies' who peddle dodgy solar deals, only to deliberately liquidate to avoid paying their debts, leaving their customers high and dry.
Fortunately, there are many different ways that you can make sure your solar installer is reputable. One option is to check out reviews online, get recommendations from friends or family who have already done the switch. As a general rule, you will want to engage a company that has been in business for a least a few years. You can also visit the Clean Energy Council website where you can find a list of accredited installers that you should be able to trust.
Another option that is fast, easy and free, is to get up to 3 obligation-free quotes from Energy Matter's network of pre-vetted solar installers. We've done the work for you to ensure your solar installer is trustworthy and provides high-quality products and services.
Reason 7: I live in an apartment or I rent
Living in an apartment is probably one of the only real roadblocks to solar that is currently difficult to overcome. If you have adequate roof space AND the collaboration of both body corporate and other tenants, it might be a viable option. There's also the concept of "community solar" or solar gardens where you buy shares in a solar farm that may be some distance away. This will likely become more widespread as we move towards a renewable future, but options at present are still relatively limited.
When it comes to renting, it's also a bit of a tricky one. There's definitely the potential to negotiate a mutually beneficial arrangement with your landlord. There are even incentives in some states to encourage landlords to install solar systems.
Victoria's Solar for Rentals program, for example, offers eligible landlords a rebate of up to $1,400 for the installation of solar panels on their property. Eligible landlords can also apply for an interest-free loan of up to $1,400 to further reduce the upfront cost of the solar panel system.
Reason 8: My roof isn't north-facing / I have too much shading
If your roof isn't north-facing or you have a lot of shading (trees, other buildings, etc.), we'd like to reassure you it isn't the hurdle it once was back when panels were expensive or panel optimisation technology was in its infancy.
Regardless of what direction your roof faces, the low cost of solar means filling your rooftop is still a worthwhile investment. In fact, solar panels installed on multiple orientations can enhance solar energy self-consumption—extracting the most out of your panels.
If shading is an issue, you can always invest in panel optimisation in the form of micro inverters or power optimisers. These devices, while slightly different, offer the same advantage in that they allow each panel in your array to function independent of its neighbours. This means an individual damaged, soiled or shaded panel will not affect your entire array.
So, are solar panels worth the investment?
Yes and yes! As demonstrated, there are many very compelling reasons why the benefits of solar outweigh the most common reasons why people haven't made the switch. While everyone's situation is unique and not everyone has the ability to go solar, the overwhelming majority of Australians who install solar will be far better off than their non-solar neighbours.

Benefits of solar in Australia 2021:
Significantly reduces or can even eliminate your energy bills
Short payback period of 3-5 years on average. Some in as little as 2 years!
Interest-free finance options or payment plans are available through most solar installers
Generous Government rebates are still available and worth between $2,000-$5,000
Adds value to your property – from $10,000 to $29,000 for a 6kW system
Reduces your carbon footprint and helps protect our environment from the devastating effects of carbon emissions