Energy Matters is one of Australia's fastest growing renewable energy companies – welcome to our new section listing recent press releases, media mentions, industry commentary, internal company news and announcements!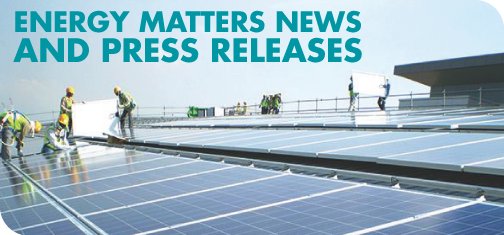 If you're a reporter or journalist needing assistance in research on a renewable energy topic, please see our media page. Our video page is here and our corporate profile can be viewed here. General industry news can be found in our renewable energy news section.
Second Round Of Darebin Solar Saver Program Complete
March 23, 2017
The second phase of an  innovative program enabling participants to have solar panels installed at zero upfront cost, with the systems paid off via Council rates, has been finalised. Read more.
US Energy Storage Software Provider  Opens Melbourne Office
March 7, 2017
San Francisco-based Geli has opened an office  in Melbourne after establishing a partnership last year with Energy Matters' parent company, Flex, relating the ACT's Next Generation Energy Storage Grant. Read more.
Sonnen Protect Now Available Via Energy Matters
February 27, 2017
An innovative device for sonnen battery systems that enables households to have backup power in blackouts is now available from Energy Matters. Read more.
Flex/Energy Matters At C4CE Community Energy Congress
February 13, 2017
Among the experts at this year's C4CE Community Energy Congress will be representatives from Energy Matters' parent company, Flex, which is also sponsoring the event. Read more.
Solar And Smart Homes
December 4, 2016
Energy Matters has just published a guide on smart homes, home automation and the role solar is playing and will play in the Internet of Things (IoT). Read more.
Powerwall 2 Pre-Ordering Now Available
November 23, 2016
Pre-ordering of the new generation Tesla Powerwall 2 is now available via Energy Matters. Read more.
Energy Matters Announces SMA Sunny Boy Storage 2.5 Availability
October 3, 2016
The award-winning Sunny Boy Storage 2.5 from Germany's SMA, a perfect companion for Tesla Powerwall,  is now available from Energy Matters; offering more options for Australians wishing to install battery systems. Read more.
Energy Matters To Roll Out Subsidised Battery Systems In Canberra
September 2, 2016
Energy Matters has been selected by the ACT Government to install heavily subsidised battery storage in homes and businesses across Canberra. Read more.
Case Study – Karratha Airport
August 9, 2016
Energy Matters has played a crucial role in the development of a huge solar power station featuring Cloud Predictive Technology (CPT). Read more.
Energy Matters Announces Ingeteam Inverter Arrivals
August 9, 2016
Energy Matters is now offering the premium European solar and battery inverter brand, Ingeteam. Read more.
Case Study – The Pines, Elanora
August 8, 2016
In partnership with Energy Matters, The Pines shopping centre installed Australia's largest single solar car park structure. Read more.
Case Study – Casuarina Square
July 20, 2016
The $4.5 million Casuarina Square solar project is the largest rooftop solar power system installed in the Northern Territory and also the biggest commercial system of its type in Australia. Read more.
sonnenBatterie Eco Now Available In Australia
June 17, 2016
Energy Matters is pleased to announce German company Sonnen's popular battery system, the sonnenBatterie Eco, is now available for installation. Read more.
Tesla Powerwall Competition Winner Announced
June 7, 2016
The Tesla Powerwall home battery system offered in Energy Matters' competition will be calling Victoria home. Read more.
NSW Solar Bonus Scheme Alert
June 3, 2016
Energy Matters has alerted participants in New South Wales' gross solar feed in tariff program may be in for a very nasty electricity bill shock if they don't take action soon. Read more.
Enphase Battery Pre-ordering Available
May 30, 2016
Pre-ordering for the modular Enphase AC Battery is now available from Energy Matters; an ideal energy storage solution for those who wish to start out small and build on storage capacity later. Read more.
Moreland Residents Making Big Savings With Solar
May 26, 2016
An initiative from Moreland City Council offering heavily discounted solar power systems from Energy Matters has resulted in substantial power bill savings and emissions reductions for system owners. Read more.
Free Solar For Macedon Ranges Community Group
April 25, 2016
Community groups in Victoria's  Macedon Ranges can submit an application for a free, fully installed 5kW solar panel system supplied by Energy Matters' parent company. Read more.
Solar + Battery Storage Calculator Launched
April 21, 2016
Energy Matters has developed an easy to use online solar + battery calculator that estimates how much a household can reduce their reliance on the mains grid by installing solar and storage. Read more.
Mini Grid For Mooroolbark
April 21, 2016
Australia's first energy mini grid in an established community was launched earlier this week in Mooroolbark, Victoria. Energy Matters will provide and install the solar and battery storage systems for the project. Read more.
More Darebin City Council Residents Saving On Solar
April  21, 2016
The 2016 round of Darebin City Council's solar programs has already seen more than 100 residents sign up for solar power systems; which will be supplied and installed by Energy Matters. Read more.
New Solar Consumer Guide Released
March 11, 2016
As part the company's 10th anniversary celebrations, Energy Matters has released a totally revamped version of its popular free Solar Power Consumer Guide.  Available in PDF format,  it incorporates clear diagrams and easy-to-understand information on selecting a solar power system, plus importantly – how to avoid potential pitfalls. Read more.
Tesla Powerwall Australia Pre-ordering
December 24, 2015
December 24, 2015. The revolutionary Tesla Energy Powerwall home battery is now able to be pre-ordered via  Energy Matters. Read more.
A Great Time For Small Business To Go Solar
May 14, 2015
In handing down Budget 2015, Treasurer Joe Hockey announced small businesses will be able to claim an immediate tax deduction for every item they purchase up to $20,000 – and this can include solar power systems. Energy Matters says the incentive makes the case for going solar even more compelling. Read more.
Energy Matters And Our Solar Future
April 21, 2015
The Southern Sydney Region of Councils (SSROC) has launched a new initiative to help households and small businesses install solar power systems – and Energy Matters is playing an important role as a recommended provider. Read more.
EM The Top Commercial Solar Installer
January 26, 2015
Energy Matters installed more capacity in the 10-100kW range than any other installer in the nation last year according to SunWiz Insights. Read more.
Solar Survey Says…
January 20, 2015
Commentary from Energy Matters CEO, Jeremy Rich on the results of a recent survey by Choice of solar power system owners in Australia. Read more.
More Energy Matters News: 2016-15 | 2014 | 2013 | 2012| 2011| 2010 | 2009/08