Why did the chicken cross the road? Because it enjoyed total mobility and comfort that was powered entirely by the sun.
Riverlands Free Range, located in farmland at Blanchetown in South Australia, had already made history by becoming Australia's largest free-range meat chicken farm.
The operations at Riverlands Free Range include 42 sheds as well as ranging areas that are twice the size of these sheds where chicks are raised from three weeks of age. They are completely free to roam around the property, between the sheds and ranging areas and are well fed and cared for.
Now a $5 million investment in solar solutions and has allowed the free-range giants to slash their electricity bill and double down on their environmental responsibility.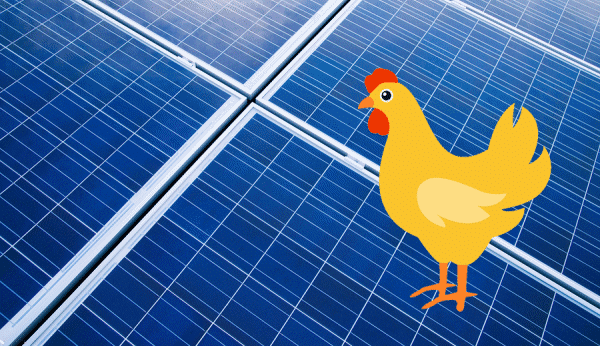 Large-scale chicken operation is a major power drain
Riverlands Free Range is a project made possible by the AAM Investments Group which manages $300 million of rural assets. They are the second-biggest producers of poultry in Australia, delivering over 20 million free-range and RSPCA-certified chickens a year to major distributors including Inghams and Murray Bridge Farms.
A free-range operation of that scale was demanding when it came to grid electricity, AAM spokesman Ben Edser said.
"Before we put the system in, our cost of energy imported from the network was getting towards $1 million," he said.
"Following the investment we've put in place, which has been circa $5 million, we've been able to reduce our consumption by about 70 per cent."
The solar system installed at Riverlands Free Range
Spending $5 million on solar solutions is an enormous investment and Riverlands Free Range ensured they were getting maximum value for their money. The setup includes a Tesla lithium-ion battery system that delivers 2.28-megawatt hours in tandem with the 1.4MW solar panels installed on the tops of the sheds.
Not only are these panels and battery solutions slashing the bill at the farm and reducing the load on the South Australian grid, but it also reducing greenhouse gas emissions by 62 per cent.
The system means they have cut their network energy demands by 70 per cent and cut greenhouse gas emissions by up to 970 tonnes of carbon dioxide a year.
It means that AAM is running the largest energy storage battery installation on any commercially operating farm in Australia, AAM Investments Group managing director Garry Edwards said.
"The battery lets us store and then use this energy at peak times in the afternoon or early morning, and to fill the battery from the network in times of low power pricing.
"The onsite battery capacity now provides enough storage to power the entire complex for about four hours every day, enabling the business to reduce and manage our exposure to the volatility of the wholesale energy market while simultaneously cutting demand on the SA energy network.
"This project is yet another successful demonstration of how agricultural businesses can be highly innovative and play an important role in the entire solution of moving Australia to a low-carbon future."