The F1 in Schools STEM Challenge is the world's foremost student competition for Science, Technology, Engineering and Mathematics. Using the sheer excitement of motorsport as its inspiration, it engages and inspires young people to become involved in STEM.

Energy Matters is delighted to be sponsoring Trinity Grammer School's "Team Sokudo" as they compete in the challenge with their miniature F1 car SSF-02. With a talented and passionate group of five students and a key focus on sustainability, Team Sokudo are well on their way to mastering "The Art of Speed".
What is F1 in Schools?
The F1 in Schools STEM Challenge mimics the world of a Formula One team, requiring students to design, engineer and manufacture a miniature Formula One car out of a block of balsa wood. With access to real-world technology, the students work together to learn in-demand skills that will serve them far beyond their schooling years. Once ready, the teams race their cars down a 20 metre track, and are judged on their speed, acceleration and handling.
Each year more than 17,000 schools in 51 nations take on the challenge of developing the world's fastest miniature F1 car. Here in Australia approximately 22,000 students are involved each year with hundreds of thousands more being exposed to the program and having access to the same classroom technology used by the students to design and build their cars.
Teams compete in three main disciplines: engineering, enterprise and marketing. They must produce an up to 30,000-word portfolio, social media content, a trade display and a marketing strategy – and, of course, aim to race the fastest car.
Team Sokudo and "The Art of Speed"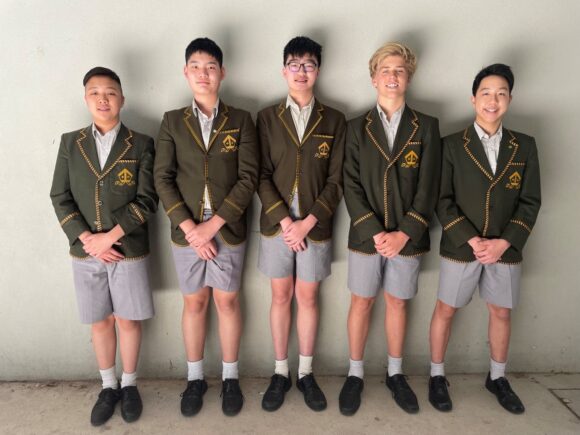 Team Sokudo (Japanese for "speed") is Trinity Grammar School's 2021 entry into the F1 in Schools STEM Challenge. Headed up by Team Manager, Eric Liang, the team is comprised of five students and close friends from year 9; Isaac Tian, CAD Engineer; Evan Liu, Graphic Designer, Edward Peng, Marketing Manager; and Charles White, Manufacturing Engineer.
This is the team's second season and, after experiencing a full season and being mentored by professionals, experienced engineers and professional marketers, the team are hungrier than ever to achieve their goal of reaching one of the highest speeds in the F1 for Schools competition.
This year, the team's motto is "The Art of Speed" and, with the help of their sponsors including Energy Matters, they have worked hard on designing and building a car that is both fast and fierce – the SFF-02.
SFF-02: Key Specifications
Weight: 50.1g
Lift: -0/03N
Drag: 0.27N
Centre of gravity: (83, 0, -9MM)
Liang explained what sets Team Sokudu apart from the competition:
"Here at Sokudo, we find strength in diversity. Different people have different perspectives on issues, and that can be vital and valuable for solving problems and generating new ideas. We all make mistakes. Instead, we focus on resolving issues and learning from our mistakes", said Liang.
"With our hard-working mindset and openness to learn, we strive to enhance our designs and for our F1 car to be the best."
Chasing a Sustainable Future
Recognising the importance of sustainability in the automotive industry and the future in general, Team Sokudo has placed a strong focus on this area this year.
"With sustainability being such an important role in our future, we are aiming to be sustainable, especially with our trade display. We are planning re-use materials and outsource our plans and designs to help beginning teams", said Liang.
"We are proud to be sponsored by Energy Matters."
Energy Matter's CEO, Roshan Ramnarain, shared his thoughts on the sponsorship:
"Here at Energy Matters we believe in a Zero Carbon future and sustainability is very near and dear to our hearts. We're delighted to be a major sponsor of Team Sokudo this year helping them on their journey, while also celebrating sustainability in all its forms," he said.
"We look forward to watching the race and cheering them on as they aim for the podium."
Energy Matters is an award-winning, Australian-owned and operated company. We have helped over 30,000 Australians discover the most competitive solar energy quotes for their homes.

Catch the Action
To catch a glimpse of the action, visit the official Australian F1 in Schools webpage.
Between November 30th and December 2nd, Team Sokudo participated in the Victorian State Finals and are now awaiting the results to see if they will be progressing to the National Finals.
Best of luck to the team!
If you would like to learn more about Team Sokudu, please visit their website or follow them on Instagram.
Looking to go solar? We can help.
We can guide you toward solar and/or battery storage solution that fits your lifestyle and budget. Receive up to 3, obligation-free quotes from our trusted network of accredited solar installers. It's fast, free, and takes the hassle out of shopping around.