SMA still rules the roost when it come to solar inverter revenue; but competitors are closing in according to research firm IHS.
IHS says SMA managed to maintain a 14 percent share of global solar inverter revenue last year; even in the face of significant challenges.
"A major contributor to SMA's improved performance was its large market share in the U.S. and other high-growth utility-scale markets," said Cormac Gilligan, research manager of IHS technology.
" The company also updated its inverter portfolio, which meant it had a competitive offering in residential, commercial and utility-scale and other major segments of the market."
SMA marked a number of milestones last year, including reaching 1 gigawatt of solar inverter sales in Thailand. More recently, the company also announced a Tesla Powerwall compatible inverter – the Sunny Boy Storage.
However, breathing down SMA's neck are companies such as SolarEdge and Sungrow.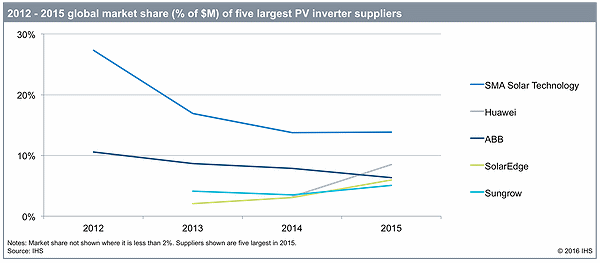 IHS says Chinese suppliers benefited from local demand last year, which the company estimates to have been 22 gigawatts.
One of those beneficiaries was Sungrow, which not only maintained a significant market share in China, but also increased its slice of the global pie. IHS says Sungrow ranked as the largest three-phase, high-power inverter supplier in 2015 for a third consecutive year. Sungrow also exceeded 1 GW of PV inverter exports for the first time last year and was the largest Chinese exporter in 2015.
Sungrow inverters have become increasingly common in home solar power systems in Australia due to their impressive features and low pricing point.
Revenue share for Solaredge, an Israeli company, climbed 3% in 2015, to reach 6 percent.
"This milestone was largely aided by its success in winning over major customers in U.S. residential and small commercial markets," said Mr. Gilligan.
This year, SolarEdge has the added edge of offering the first Tesla Powerwall compatible inverter solution, StorEdge.
The United States will become the second largest PV market globally through 2020 thanks to a tax credits extension announced at the end of 2015, so demand for solar inverters and associated components will continue to be strong. IHS estimates the nation will install 72 GW of PV from the beginning of this year to 2020.